Pet Pampering for the Holidays
We belong to the Pet Blogger's Influencer Group at BlogPaws, and recently participated in a survey about pets and holidays.  They put together a neat infographic to show the results.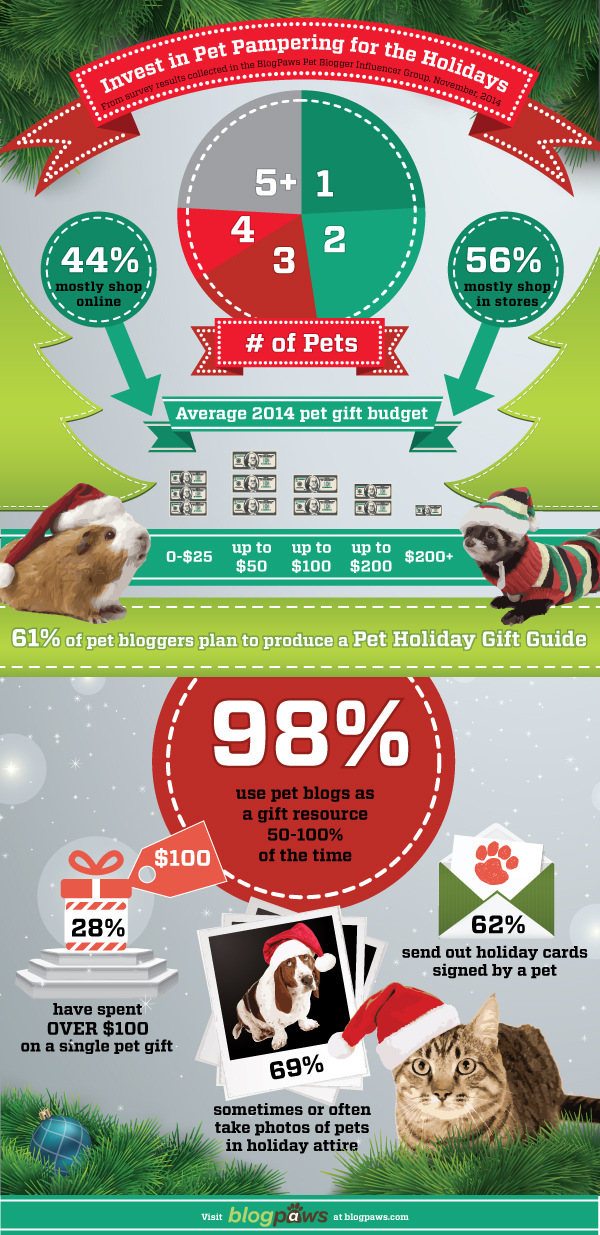 There are a couple of things that I found interesting on here:  First of all, that the number of pet bloggers who have only 1 or 2 pets is about the same as those that have 5+, and that those with 3 or 4 are far less.  Apparently it's all or nothing!  I'm always trying to figure out what the perfect number would be, right now we have 5 (3 dogs, 2 cats), but at one point we had 8 (4 dogs, 4 cats)!  The only thing I've determined so far is that 8 was too many for me!
We usually spend $50-100 on all of the pets together at Christmas.  I might spoil them more for the holidays, but I really spoil them all year long anyway.  I can't tell you how much time I spend shopping (mostly online) for the pets, year round!  We laugh when packages come to the house; it's either something I've ordered (or won, or for a review) for the pets, or car parts that my hubby has ordered for his (or my) Mustang!
I haven't done Christmas cards with the pets for a few years now.  I don't think I'll have time to do them this year either, but I might try again next year.  I'm not big on dressing them for photos, but I'm hoping for a little more of that this year, especially with Luke who seems to be pretty tolerant of having things put on him (unlike the girls).
Speaking of spoiling and Christmas shopping, I am still on the hunt for indestructible toys for Luke and Sheba.  The Orbee-Tuff football they got for their birthdays has been a success!  It has held up and they still play with it.  Here you can see that Luke has it stashed in his favorite spot on the windowsill with some other favorite toys.
Sherman Sheep
When Black Friday shopping I found a different tough stuffed toy – a Tuffy – and we'll see how this one goes!
This 'n That
I don't think I ever properly thanked Jodi at Heart Like a Dog for passing on the Liebster Award to us.  As with all awards, there are rules and I will get to those another time.  I just wanted to be sure to at least acknowledge the award to start!
I'm happy to announce the winners of our PETCAM book giveaway!  Congratulations to Kate V, Katty K, Jenna H, Lauren E, and Malia R.  All winners have been contacted and their books should be on their way to them now!
Have you been following the #Advent4Dogs 24 days of giveaways?  Don't miss out on a chance to win one or all of these wonderful prizes!  We're excited to be co-hosting along with Kol's Notes, Dogthusiast, Heart Like a Dog, & NEPA Pets.  You can enter each giveaway at Kol's Notes.
Today's give away is sponsored by CloudStar.  Enter now for your chance to win a Treat Prize Pack (different in US/Canada due to import export laws). Open to: US/Canada.  Click here to enter!
You might also like these posts: